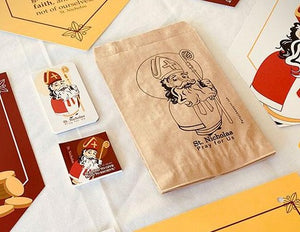 The last day to receive St.Nicholas by Dec. 6th with regular shipping has passed.  In order to ensure you get your decorations in time, please choose expedited shipping and order by Tuesday Nov.30th.
Add these St. Nicholas Party Sets to your next celebration. Our family enjoys spreading the cheer that St. Nicholas did. On his feast day, December the 6th, we have created a tradition of giving gifts like St. Nicholas did. These little bags are perfect for that with a goodie bags, stickers and prayer cards choose from an  8 count , 16 count, or a 24 count. 
All of our products are designed and printed in the USA. Each product is individually hand packaged.


Party Set Contains:
Goodie bags: 5 by 7.25 inches
Stickers: 2 by 2 inch
Prayer Cards: 2 by 3.5 inches